Sunday
October 15
10 AM*
Dave Eggers and Shawn Harris
Her Right Foot
"I want to hold this book in one hand and a torch in the other and stand on an island someplace so everyone can see." --Lemony Snicket
If you had to name a statue, any statue, odds are good you'd mention the Statue of Liberty. Have you seen her?
She's in New York.
She's holding a torch.
And she's in mid-stride, moving forward.
But why?
In this fascinating, fun take on nonfiction, Dave Eggers and Shawn Harris investigate a seemingly small trait of America's most emblematic statue. What they find is about more than history, more than art. What they find in the Statue of Liberty's right foot is the powerful message of acceptance that is essential to an entire country's creation.
Dave Eggers, author of Heroes of the Frontier and The Circle, and founder of McSweeney's and 826 Valencia, and illustrator Shawn Harris come to Bookshop West Portal to celebrate the publication of Her Right Foot, a picture book about the Statue of Liberty. Bring the kids!
Dave will lead a presentation of the book and Shawn will lead a collage project. Supplies will be provided!
Watch this awesome youtube video about "Her Right Foot" here!
Dave Eggers grew up near Chicago and graduated from the University of Illinois at Urbana-Champaign. He is the founder of McSweeney's, an independent publishing house in San Francisco that produces books, a quarterly journal of new writing ( McSweeney's Quarterly Concern), and a monthly magazine, The Believer. McSweeney's publishes Voice of Witness, a nonprofit book series that uses oral history to illuminate human rights crises around the world. In 2002, he cofounded 826 Valencia, a nonprofit youth writing and tutoring center in San Francisco's Mission District. Sister centers have since opened in seven other American cities under the umbrella of 826 National, and like-minded centers have opened in Dublin, London, Copenhagen, Stockholm, and Birmingham, Alabama, among other locations. His work has been nominated for the National Book Award, the Pulitzer Prize, and the National Book Critics Circle Award, and has won the Dayton Literary Peace Prize, France's Prix Medicis, Germany's Albatross Prize, the National Magazine Award, and the American Book Award. Eggers lives in Northern California with his family.
*Please note special time for this event!
Event date:
Sunday, October 15, 2017 - 10:00am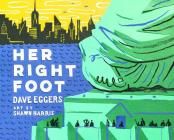 $19.99
ISBN: 9781452162812
Availability: Usually Ships in 1-5 Days
Published: Chronicle Books - September 19th, 2017
---